There's exciting news for fans of the racing scene – the Flatlanders are set to flip around their bleachers and start building a new track just to the south of the site of the currently-flooded old dirt track.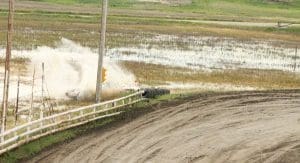 The last race was on July 9, 2016. The remaining contests were cancelled because of all the water sitting on and around the track, which is located about five minutes west of Kindersley on Highway 7.
There haven't been any races this season, Flatlanders Speedway president Jason Hankewich said they're looking at getting back in action in a month to a month and a half, depending on how much help they have cutting out the new track.
"We're going to start breaking ground here this week, and we're looking for as much help as we can get," Hankewich said. "People with equipment is actually really needed right now. We're struggling to find some equipment. The more equipment the merrier. We're looking especially for graters and earth movers and scrapers."