Kenneth Brown
of The Clarion
The Kindersley Home Hardware Building Centre has closed its doors for good because the limited company that owns the business has filed for bankruptcy.
The business closed suddenly last week and a handwritten note was posted at the business advising people that the store had been closed. The message provided people with two phone numbers and the name of a person to contact for information regarding the closure.
Wayne Palmer, a licensed solvency trustee at BDO Canada Ltd., said the limited company that operated the Kindersley Home Hardware Building Centre has opted to file for bankruptcy.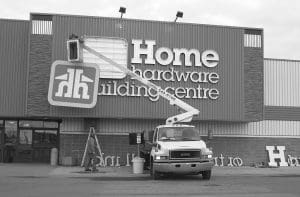 He noted that no other Home Hardware stores are affected as a result of the bankruptcy, only the store in Kindersley. Two factors contributed to company's losses and decision to file, he said.
"The store, I guess, was experiencing significant losses brought about by, of course, the economic downturn, and the increased competition in the area," Palmer said. "Those two events resulted in the losses being sustained, and then the company could just no longer operate."
[emember_protected for="2″ custom_msg='For more on this story, please see the July 11 print edition of The Clarion.']
He said he works as a licence and solvency trustee with BDO Canada, and the firm's role is to realize on the assets for the benefit of creditors.
The limited company was delinquent on accounts and the doors have been closed permanently.
The name of the company was not discussed.
A company known as Western Building Centres Ltd. purchased Namraw Lumber in 2011, and its former location on Highway 21 became the Kindersley Home Hardware Store.
Western Building Centres announced in 2012 that the business was moving to the Kindersley Mall. After the move, it became known as the Kindersley Home Hardware Building Centre.
Western Building Centres, referred to as an investment group by company officials back in 2011, could not be contacted.
[/emember_protected]
© Kindersley Clarion