Kenneth Brown
of The Clarion
The Town of Kindersley and the design builder for the town's new aquatic centre have held a sod turning ceremony to signify the start of the construction process.
Representatives of several groups were on hand near the site of the old Kindersley Aquatic Centre on July 5 for the sod turning ceremony. A large contingent of officials from the town were in attendance, along with other officials, volunteers and community members.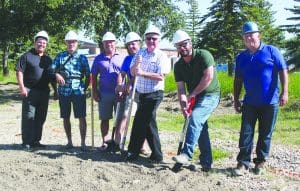 Mayor Rod Perkins was joined at the sod turning by councillors Gary Becker, Dean Galbraith, Shaun Henry and Randy Irvine. Several members of the town's administration were also at the event to formally mark the project.
Representatives of Pro-Bilt Structures Ltd., Western Recreation & Development Inc., Big Dippers pool fundraising committee and Kindersley & District Co-operative Ltd. joined the town officials for the occasion. Perkins welcomed people to the event and thanked them for attending.
The mayor said it was a beautiful day for the event and officials had gathered to turn the sod at the future site of the new Kindersley Aquatics Centre, an indoor facility that is hoped to be in operation in the summer of 2018.
He noted that the project is long overdue and town officials are "pretty happy that it's going to happen." Perkins said fence has been erected around the site and machines are running, and the activity is a good sign for the community.
For more on this story, please see the July 11 print edition of The Clarion.
© Kindersley Clarion