Kenneth Brown
of The Clarion
Kindersley's Jason Hankewich had an eventful night in Saskatoon last week when he took on several of Canada's best stock car drivers in the NASCAR Pinty's Series.
Hankewich took his Bounty Creek Farms/Get-A-Grip Tire Chevrolet to Wyant Group Raceway in Saskatoon on July 26 to compete in the Velocity Prairie Thunder Twin 100s presented by Bayer. The race used to be 250 laps long, but it is now twin 100-lap races for the series.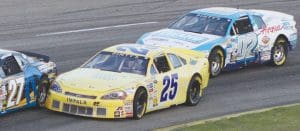 In a change for the Pinty's Series, the starting positions for drivers in the second race were determined by the fastest laps for each driver in the first race. Hankewich qualified to start in 17th for the first race.
A total of 20 cars started each race. The local competitor drove his No. 25 Chevolet Impala to a 17th place finish in the first 100-lap race and he improved in the second race with a 14th place finish after starting for the second time in 17th position.
But the results do not tell the whole story.
For more on this story, please see the August 2 print edition of The Clarion.
© Kindersley Clarion