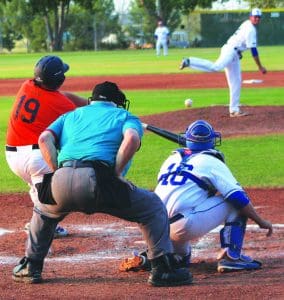 Kevin McBain
of The Clarion
The Kindersley Raiders have a 1-0 series lead, in the best-of-three Fertile Valley League Baseball Championship finals, after a win over the Kindersley Stallions Monday night.
The two teams had yesterday off in preparation for game two that will go tonight at 7:30 p.m. on Berard Field.
Ace Tyler McKee will take to the mound for the Raiders while Corson Harris gets the nod for the Stallions in what should be an epic pitchers' duel.
The Raiders ended up winning game one, 6-3, but it was one that could have went either way.
To start this one, Dallas McGrath took the bump for the Stallions, while the Raiders' countered with seasoned-veteran Byron Ismond.
Through five innings of play, the game was tied at zero, thanks to some great pitching and great defence.
The Stallions did have a few chances, with bases loaded twice, but squandered their opportunities to get on the scoreboard.
In the top of the sixth, the Raiders took advantage of some errors and got in some timely hitting to score six in the inning to take the lead for good.
JD Knutson took over pitching for the Stallions and shutdown the Raiders the rest of the way.
For more on this story, please see the August 2 print edition of The Clarion.
© Kindersley Clarion