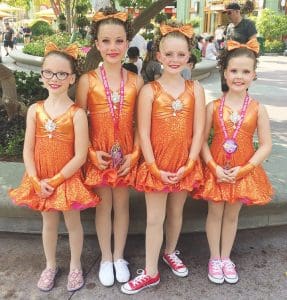 Kenneth Brown
of The Clarion
Lindsay Larock of Eatonia teaches dance in Eston and four of her students, including her daughter, have had a unique experience in the entertainment mecca of Los Angeles.
The Eatonia resident operates the 454 Dance Co. in Eston and one of her students, eight-year-old Tory Lahey of Eston, helped to open the door for three of her other students to get an opportunity of a lifetime: to dance in parades at Disneyland and to learn from professional instructors in Hollywood.
Larock said Lahey won a scholarship at a Leader School of Dance competition earlier this year and the scholarship was an opportunity to participate in the Be Discovered program. The young dancer also won the same scholarship at a competition in Medicine Hat.
The instructor said Lahey earned the opportunity to participate in the Summer in L.A. Disney Intensive, a program that includes going to Los Angeles, dancing in parades at Disneyland and attending classes in Hollywood, among other items.
Larock said after Lahey earned the opportunity through the two dance competitions she started to look further into the program. She noted that her daughter Addy, 10, sent an audition tape to the Be Discovered program and she earned the opportunity to participate in the Summer in L.A. Disney Intensive. Two other students, Ryan, 10, and Addison Goldstone, 9, of Eston also made the trip to Los Angeles.
[emember_protected for="2″ custom_msg='For more on this story, please see the Aug. 9 print edition of The Clarion.']
After Lahey and Addy earned the opportunity, Lindsay opened up the idea to all of her students. She said any dance schools are able to sign up students to participate in daily parades at Disneyland, but it has nothing to do with the Be Discovered program.
Officials for the Be Discovered program sign up their participants to dance in the parades as part of the program. Lindsay said she hopes to one day take a larger group of students to give them the same opportunity to dance in a Disney parade.
The four students, Lindsay and the two other mothers left for Los Angeles on July 1 and returned on July 10. Lindsay said her four students spent four days in Hollywood, where they attended classes with professional instructors. The group even stayed at the Roosevelt Hotel, an iconic hotel on Hollywood Boulevard.
Lindsay said the students had professional head shots taken, and among the classes they participated in was one to learn how to audition for jobs in the industry. She said it was a great learning experience for her students.
She noted that the big part of the week for all four students included dancing in the two parades at Disneyland and participating in a special showcase at the popular resort. She said the experience, as an instructor and a mother, struck a chord with her when she saw the girls in the first parade.
"When they were in their first parade at Disneyland, I was kind of on the one side," Lindsay said. "I kind of turned in to take pictures and videos, and I burst out in tears. I was so proud of them. I very much pride myself on making my studio like a family."
Approximately 750 dance students will lead every parade at Disneyland, she explained. As part of the Summer in L.A. Disney Intensive program, the students were treated to a behind-the-scenes look where they were taken backstage at one of performance venues at the resort, she said.
Lindsay said the four students and their family members, which included her youngest daughter Kennedy, also got to go on a tour of Hollywood. It was a unique experience for four girls from small-town Saskatchewan, she added.
Addy said she had never been on a trip so far away from home, and she had a lot of fun with her family and fellow students. Of all the experiences she had on the trip, she said one of her favourites was hanging out with several iconic Disney characters.
"They had this breakfast at Goofy's Kitchen and we got to meet most of the characters there," she said. She spent more time with some characters than others and got to give Pluto a hug. "I liked that a lot."
She said she enjoyed dancing in the parades, but it was a different experience because it was so hot in Los Angeles. The area was under a heat wave, her mother pointed out. The 10-year-old dancer said one of the parades was 25 minutes long and it was really hot.
According to Addy, the experience of dancing in front of the large crowds will help when she has to do solo routines. She said the classes were great because she was able to learn from professional choreographers. The Eatonia youth said she enjoyed meeting the other Be Discovered dancers and she made several new friends on the trip. She also enjoyed the Hollywood bus tour.
Addy said on the tour, "we went really up close to the Hollywood sign." And at one point on the tour, she got to meet two celebrities and they just happened to be dancers. At one stop in Beverley Hills, Sasha Farber and Emma Slater of Dancing with the Stars fame were just getting out of their car.
[/emember_protected]
© Kindersley Clarion