Kevin McBain
of The Clarion
The story of a Venezuelan family that has been fighting for the right to stay in Kindersley rather than be deported back to their home country has gained attention from provincial and national media.
It is also a story about a community that has rallied to support the family that put roots down in the town and consider it home.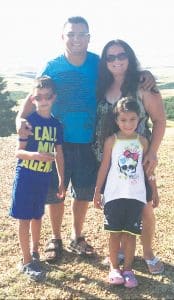 Wilmer Gonzalez, 43, and his young family absolutely love the community and don't want to be anywhere else. But in just a few weeks they may be deported back to Venezuela which is on the brink of civil war – not a safe place to go by any means, and one that Gonzalez does not want to go back to.
Wilmer, his wife Vanessa and children Oriana, five, and Javier, seven, have lived in Kindersley for three years. Wilmer first began working at Brothers Restaurant and in Luseland in construction when they first moved here, but most recently he was working as a maintenance man at the Kindersley hospital and part-time at the Salvation Army and doing janitorial work.
Where it all began …
Wilmer first moved from Venezuela to Salt Lake City, Utah, in 2001, where he worked at several jobs such as pizza delivery and as a mechanic.
In 2007, he had some legal issues and was brought up on several charges by his ex-wife. He pleaded guilty to all of the charges to expedite the process, paid his fines and the matter was closed.
He never spent a day in jail and was not deported out of the U.S., leaving on his own accord. After everything was settled, he moved back to Venezuela.
In 2013, he spent 20 days in Canada looking for work but then returned to his home country.
[emember_protected for="2″ custom_msg='For more on this story, please see the Aug. 9 print edition of The Clarion.']
In February 2014, he returned to Canada and filed a refugee claim, but was denied because of his charges and conviction.
In September 2014, Vanessa and the kids joined Wilmer in Canada on visitors' visas that must be renewed every six months.
In October 2015, they submitted a new application on humanitarian and compassionate grounds. It was denied.
However, Wilmer did receive a work permit in 2015 and he included his family on this permit.
In December 2016, he submitted a new application for the Saskatchewan Immigrant Nominee Program and was approved in February 2017.
As directed by his lawyer, Wilmer took all the appropriate steps to re-apply through Canadian Immigration Services to have his open work permit extended another year beyond March 25, 2017. They submitted the application on March 13, before the old one expired.
By the time Wilmer received a response to his work permit application on July 20, his work permit had expired. Canadian Immigration denied his application, saying he requires a valid work permit in order to apply for a renewal.
The Saskatchewan Immigrant Nominee Program expired this month and they gave them the opportunity to apply for permanent residency, which they had already done.
In several stories that have been printed, the government was said to maintain that he missed a deadline in December of last year for what's referred to as a pre-removal risk assessment. The application may have allowed a removal order against Gonzalez to be stayed.
However, Gonzalez said that he didn't know anything about this assessment.
Going back …
Venezuela is on the brink of a civil war as rebels and government troops continue to clash.
When living in Venezuela, Wilmer was a member of a political party that was in opposition to the current government, which could increase the size of the target on his back and he may get him blacklisted.
"I'm really not a political person at all but I just want to help people," he said.
He said he's very frightened for himself and his family.
"Sometimes people just disappear in Venezuela and no one ever knows what happens to them," said Wilmer.
The family was given a month from July 26 before they're to be deported. They don't know of an exact date when they have to leave if all efforts fail.
Thankful for the community …
"The community is like my second family. We moved here without knowing anybody," said Wilmer. "But we have met so many good people. It is safe here, we love it. We do not want to live anywhere else."
The family has received a ton of support from the community, with many people calling and writing letters to various political leaders.
A friend even started a petition on change.org that has garnered more than 9,700 signatures (as of Tuesday morning).
Wilmer said that the kids have really enjoyed the community. Javier has taken a liking to hockey and played soccer (coached by his dad) last spring. Oriana enjoys skating and dance.
Both Wilmer and Vanessa said they really enjoy having the four seasons and recently enjoyed camping at Cypress Hills. Last year, they went skiing for the first time and did a lot of sledding on the Westberry Hill.
"We don't want to move anywhere else. If we are allowed to stay in Canada, we will stay here. We love it," said Wilmer.
He said they just want to continue to live and work here. Wilmer was working hard to support his family here and his mother back home.
His father passed away last year and his elderly mother is living at home with no income, while she waits for benefits from her husband's pension.
He said they have never asked for any help from the government and have, never lived on welfare.
They have not been in trouble with the authorities and they have been a part of the community since day one, paying taxes, working, volunteering and helping wherever they can.
Wilmer said he has worked hard to stay in Canada and has spent more than $10,000 on documents and applications to be able to stay here.
He and his family have quickly become a part of the community and hope to make this their permanent home. Why punish them?
A co-worker at the Salvation Army, put it this way: "He was a great worker. He was one of those guys that would always show up and work hard," said Kim. "He was a very dedicated worker and a very caring individual. He is a very good man."
[/emember_protected]
© Kindersley Clarion