Kevin McBain
of The Clarion
The story of a Venezuelan family that has been fighting for the right to stay in Kindersley rather than be deported back to their home country has gained attention from provincial and national media.
It is also a story about a community that has rallied to support the family that put roots down in the town and consider it home.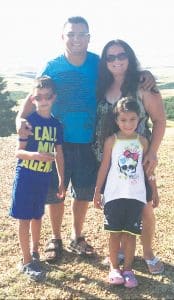 Wilmer Gonzalez, 43, and his young family absolutely love the community and don't want to be anywhere else. But in just a few weeks they may be deported back to Venezuela which is on the brink of civil war – not a safe place to go by any means, and one that Gonzalez does not want to go back to.
Wilmer, his wife Vanessa and children Oriana, five, and Javier, seven, have lived in Kindersley for three years. Wilmer first began working at Brothers Restaurant and in Luseland in construction when they first moved here, but most recently he was working as a maintenance man at the Kindersley hospital and part-time at the Salvation Army and doing janitorial work.
Where it all began …
Wilmer first moved from Venezuela to Salt Lake City, Utah, in 2001, where he worked at several jobs such as pizza delivery and as a mechanic.
In 2007, he had some legal issues and was brought up on several charges by his ex-wife. He pleaded guilty to all of the charges to expedite the process, paid his fines and the matter was closed.
He never spent a day in jail and was not deported out of the U.S., leaving on his own accord. After everything was settled, he moved back to Venezuela.
In 2013, he spent 20 days in Canada looking for work but then returned to his home country.
For more on this story, please see the Aug. 9 print edition of The Clarion.
© Kindersley Clarion