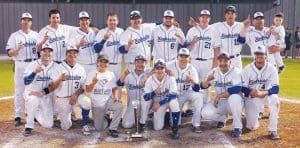 Kevin McBain
of The Clarion
The Kindersley Raiders are Fertile Valley Baseball League champions!
The Raiders defeated the first-year Kindersley Stallions in two straight games last week to win the best-of-three championship series and earn their second title in the past three years.
Both games featured some top pitching and great defence.
The deciding game, played Aug. 2, ended 2-1 for the Raiders. Game 1 ended 6-3.
Game 2 was a battle for the ages, with flamethrower Tyler McKee on the mound for the Raiders and young pitcher Corson Harris for the Stallions.
This game went into the seventh inning with just two hits being allowed, both by the Stallions.
In the top of the seventh inning, McKee walked the first batter, then hit the second to get a couple of players on. Kyle Donaldson hit a blooper to left to bring in a runner and make it 1-0. The next Stallion batter hit into a double play to stop any further progress.
In the bottom of the seventh, the first two batters popped out, but they were able to get a couple of runners on base – with a Joel Miiller bloop single, Tait Schommer came on to pinch-run, then Byron Ismond walked.
Then the turning point: Patty Omness hit the ball to third baseman JD Knutson, whose throw to first was offline, enabling the Raiders to get two men home and capture the win.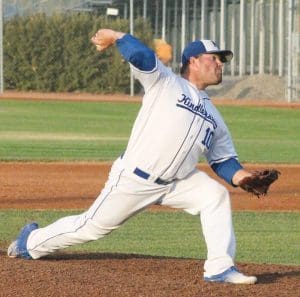 Harris went the distance for the Stallions and didn't give up an earned run.
McKee of the Raiders said the game was truly a battle.
"I knew beforehand that I had to get my off-speed working, because these guys are a good fastball hitting team," he said. "I think it was working well. They're a great young team and we knew we had to keep the pressure on. The guys played unreal."
McKee said he had a knot in his back since about the fourth inning and would like to thank Robert for giving him massages in between innings.
Raiders' coach/player Clayton Artymovich said the team was more than excited about the win.
"We were just so excited," he said. "We were just like little kids out there, jumping up and down – almost giddy-like. We were talking in locker room about the championships that all of the guys have won in hockey and baseball and this was the biggest win.
For more on this story, please see the Aug. 9 print edition of The Clarion.
© Kindersley Clarion