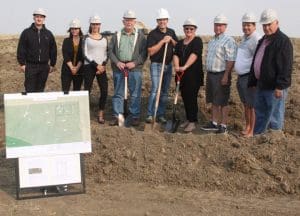 Kenneth Brown
of The Clarion
Construction of the new regional landfill west of Kindersley has been launched with a sod-turning ceremony.
The sod turning was held on Aug. 30 at the site of the facility south of Highway 7 and 10 km west of Kindersley.
The project is spearheaded by 19 urban and rural municipalities in Western Regional Landfill Inc. (WRLI).
Loraas Environmental Services is developing the landfill with help from local contractors, and the company had representatives at the ceremony. About a third of the municipal partners involved in WRLI were also represented.
WRLI president Curtis Sackville, president of WRLI, said the sod turning begins the best part of a project: the construction phase. This fall marks five years he has worked on the project.
He said the project is crucial for the 19 municipalities.
"This landfill site will provide an important, but sometimes overlooked, essential service to our municipal community members," Sackville. "Its design will account for the potential growth that we'll see over the next 100 years."
He said a tremendous amount of learning and planning has gone into the project to get it to the construction phase, and it will serve as a testament to the commitment, compromise and partnership of the members, he said.
For more on this story, please see the Sept. 6 print edition of The Clarion.
© Kindersley Clarion