Kevin McBain
of The Clarion
Students at Kindersley Composite School are well known for helping others at home and abroad.
Grade 12 students Jillian McArthur and Colton Leismeister recently returned from a Me to We trip, during which they helped build school rooms in India.
McArthur was making her third trip with Me to We and this was Leismeister's first adventure.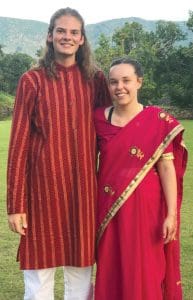 "I talked to Colton about maybe going on the trip with me and a couple of days later he was booked in," said McArthur.
The pair left on Aug. 5 and returned on Aug. 22.
Colton said that it was an incredible experience.
"It was life-changing for me," he said. "It really opened my eyes to see what we take for granted. Seeing the kids at school and how different everything is was incredible."
The group of 28, from all over Canada (including seven from Saskatchewan), worked on a couple of floors and exterior walls for rooms at a school house in Udaipur. They also helped with the future computer lab, a first in the province of Rajasthan.
Fellow local student Shayla Olafson worked at the same site just a few weeks earlier.
McArthur, who has also been to China and most recently the Dominican Republic with Me to We, also said that it was great to be a part of the trip.
"It was tough that first day to walk in to where we were working and the students, those who couldn't fit in the classroom, were sitting in the exposed hallway or in the rubble around the room," she said. "The workers were tearing down old parts of the walls, while they were putting up new ones. It was really sad to to see this. How do they learn like that?
For more on this story, please see the Sept 13 print edition of The Clarion.
© Kindersley Clarion