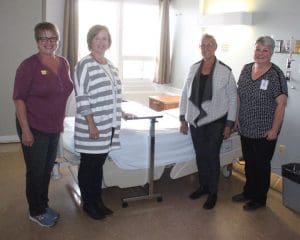 Kenneth Brown
of The Clarion
The Kindersley and District Health and Wellness Foundation (KDHWF) has wrapped up a fundraising campaign to upgrade more than 100 rooms at the integrated health centre.
In February 2016, the KDHWF launched its Revitalize-A-Room campaign with the goal of raising more than $100,000 to upgrade patient and client rooms at the Kindersley & District Health Centre. The foundation reached its goal early in 2017, according to a spokesperson.
A total of $105,135 had been raised within a year of starting the campaign. As part of the initiative, roughly 80 rooms in Heritage Manor, the health centre's long-term care facility, and more than 20 rooms in the hospital would be upgraded.
Not all rooms have been finished, but work is well underway.
The upgrades to the rooms include a fresh coat of paint, new curtains and a couple new pieces of furniture.
As the cost to upgrade each room was estimated at about $1,000, the campaign only ended when the goal was reached.
For more on this story, please see the Oct. 11 print edition of The Clarion.
© Kindersley Clarion