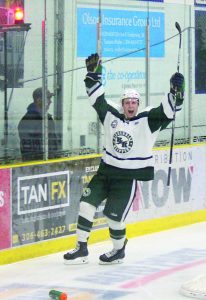 Kevin McBain
of The Clarion
The Klippers are on a bit of a roll.
The Klippers have won six of their past eight games now including a 4-3 victory over the visiting Melville Millionaires Saturday night.
Coach Geoff Grimwood says that the guys are playing hard.
"The guys are putting in a good effort every night and we seem to have different guys step up each time out," he said. "Saturday we had Kyle Bosch, Cameron Shorrock and Josh Fletcher step up. The game before that it was Justen Close and the game before that it was Tanner Thompson and Curtis Peck.
"It just seems that every night we have different players or lines step up to make the game a success," he added.
Kindersley's Kyle Bosch scored his first two goals of the season back-to-back in the first half of the second period in Saturday's game. While Josh Fletcher scored the eventual game winner late in the second. Curtis Peck got things going with the lone goal of the first period.
Bosch said it felt good to score.
"It felt really good ," he said. "Just came back from missing a few games due to injury and I just started throwing the puck at the net and a couple went in."
He also credited his linemates Cam Chorrock and Josh Fletcher for their play.
For more on this story, please see the Oct. 18 print edition of The Clarion.
© Kindersley Clarion