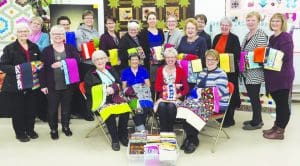 Clarion staff
Veronica Longmuir, owner of Veronica's Sewing Supplies, is working on a project to "pay it forward."
Her goal is to make and donate 150 pillow cases (number chosen because of Canada's 150th year) to children with cancer or in crisis.
Word of the project was put out through the store's email list and the project was met with a very positive response, according to Longmuir.
She said that the first batch of finished pillow cases was washed in a scent free detergent, pressed and delivered to the pediatric oncology department at the Royal University Hospital, the Interval House and Ronald McDonald house.
She said that she deliver 130 pillow cases in that first trip alone, "without even trying," she said and people continue to take up the cause.
The next batch will go in November.
She encourages people to help her out on the project and hopes that other stores or guilds will pick up the idea as well.
She says that pillow cases are a pretty simple project and just takes about 30 minutes to complete and "they are fun to make."
Staff at the store has made things easy. If a person doesn't have suitable children prints in their collection, they have ade up kits, which can be purchased for a nominal fee, for quick pick up and go.
All of the cases are done using French seams inside to make them last a long time. She also ask that if you are making one or more, to please print the name of the town of where you are from inside the cuff of the pillow case.
Again, response has been great.
She says that a lady recently came in to the store and picked up 10 kits recently because her son used the Ronald McDonald house.
As well, the Luseland quilting guild recently brought in 35 finished pillow cases.
"Hopefully we will meet or surpass our goal and make some little people happy," said Longmuir. "I've been battling the big 'C' for about a year now and it is just a small way that I can give back."