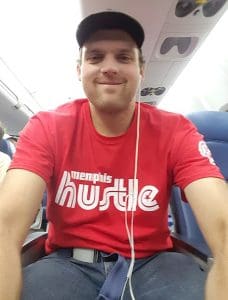 Kevin McBain
of The Clarion
He's the kind of guy you can't miss.
Lots of energy, very social … oh yeah, and he is six-foot-eight.
Jason Hankewich grew up in the Kindersley area, playing basketball through high school, then he moved on to coaching high school boys basketball, which he has done for the past seven years.
He's always loved the game and making it to the professional level has always been his dream.
"I finished last year's basketball season coaching the boys and I realized that I don't have any more goals, nothing to strive for," he said. "But one of my players reminded me that I never did pursue my dream of playing professional basketball.
"I realized that I never did and right now I don't have much on my plate and this was the time to it," he added.
He decided to go for it and has been working out for the past six months and has lost about 60 pounds over that time.
One of his players told him he should go to Memphis for a tryout camp with the Memphis Husle, a development league team for the National Basketball League's Memphis Grizzlies.
So it was off to Memphis for tryouts Sept. 23 and 24. About 150 players from all over the U.S., along with this Canadian, were put through drills and games.
For more on this story, please see the Nov. 1 print edition of The Clarion.