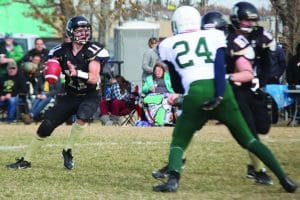 Kevin McBain
of The Clarion
The Kindersley Composite School Kobras football team will host the Humboldt Mohawks this Saturday at 1 p.m. in the provincial semifinals.
The Kobras shut out the visiting Fort Qu'Appelle Bison 53-0 in the quarter-finals last Saturday.
"We wanted to get off to a good start in this game and we did, not like what we did in our last game against Meadow Lake," said coach Tavis Lehman. "We forced them into a safety on their first possession and we scored on our second drive of the game."
He added that they took a lot fewer penalties, which really helped, along with getting good field position for most of the game.
The score was 20-0 at half time.
For more on this story, please see the Nov. 1 print edition of The Clarion.