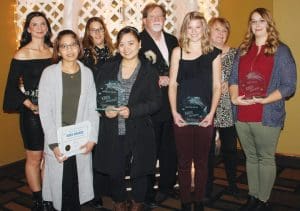 Kevin McBain
of The Clarion
The third annual Kindersley Business Excellence Awards (KBEX), sponsored by the Kindersley Chamber of Commerce, was held Friday at the Kindersley Inn and honoured some of the great people and businesses in our community for going the extra mile.
Brenda Meyer, vice-president of the Kindersley Chamber of Commerce, said that it was a great evening.
"The turnout was good and we were really happy with the number of nominations that we received," she said. "However, we could get a lot more and starting Jan. 1 you can submit nominations for next year's event.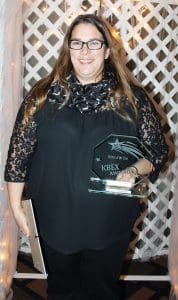 "Fill out a form online when you think of a business or a person that you think is deserving of recognition for good service or contributing to the community," added Meyer. "Sometimes we forget about things until just before the event. Start nominating people right away, it's such a great opportunity to give Kindersley and area businesses and people a pat on the back. We need to celebrate people and businesses."
Awards were presented in nine categories over the night, including the Citizen of the Year awarded to Jamie Henry, who bested nominees Shaun Henry, Chad Miller and Tom Morris.
Jamie said it was great to be recognized, admitting that beating her husband was a highlight.
"It is pretty exciting. I was surprised," she said.
Jamie is a member of the Big Dippers pool fundraising committee and the Kindersley Community Service group, and she volunteers for the many activities that their children are involved in.
Jamie and her family moved to Kindersley six and a half years ago and she enjoys helping out wherever it is needed.
Earning the Junior Citizen award was Shayla Olafson, who has been a big part of the community for a long time.
For more on this story, please see the Nov. 8 print edition of The Clarion.