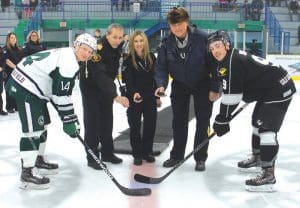 Kevin McBain
of The Clarion
The Klippers picked up three of four Saskatchewan Junior Hockey League points from the visiting Battlefords North Stars this week, winning 4-1 last Tuesday before losing in a shootout 4-3 on Saturday.
"It think it was a positive week," said assistant coach Larry Wintoneak. "Any time you can take three of four points from the North Stars it is a good thing. We are taking steps forward."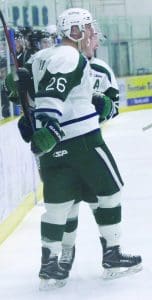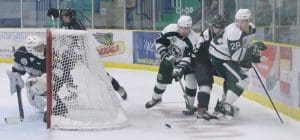 Josh Fletcher was back in the lineup for the second game and his enthusiasm seemed to spark the Klippers.
The Stars got on board first when Tre Doyon scored just 2:42 in the game. Tanner Thompson would respond quickly, scoring just over two minutes later.
The North Stars would add another, when Layne Young found the back of the net at the 10:24 mark of the period to make it 2-1 going into the second.
The Klippers owned the second, with Fletcher scoring early, just 39 seconds in to tie the score and Curtis Peck would add another late in the period to make it 3-2.
The North Stars' Chaseton Braid would score the lone goal of the third, on the power play to send the game into overtime, which solved nothing.
The shootout would see the North Stars best the Klippers.
Kolby Matthew faced 32 shots, while Justen Close saw 31 shots come at him.
In Tuesday's game, the North Stars got on the board first with Dakota Huebner scoring early in the second. But the Klippers bounced back with Eddie May scoring on the power play at the 6:53 mark of the middle frame.
For more on this story, please see the Nov. 8 print edition of The Clarion.