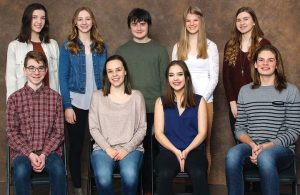 Kenneth Brown
of The Clarion
The Town of Kindersley has earned yet another Saskatchewan Municipal Award (SMA) for its ongoing engagement of local students with the Kindersley Youth Committee.
Each year, the SMA program presents awards to three municipalities to celebrate their excellent and innovative practices. There is also an award for regional co-operation, so there are four awards handed out through the program on an annual basis.
The SMA program is a partnership between the urban and rural municipal and administrator associations in Saskatchewan and the ministry of government relations. The SMA program aims to share knowledge among municipalities through best practices and to promote regional co-operation between urban and rural partners.
The first-place award went to the City of Swift Current for a Downtown Market Square, an initiative to revitalize the downtown core to engage businesses, artisans, farmers and various municipal sectors. Second place award went to the Town of Carrot River and RM of Moose Range for its Saskatchewan's Outback: Community Branding Campaign, an initiative to develop a community brand to retain and encourage tourism business.
Kindersley won the third place award for its initiative to establish a youth committee program to revitalize youth engagement, increase the contributions of the youth and to support an intergenerational connection.
For more on this story, please see the Nov. 8 print edition of The Clarion.