Kenneth Brown
of The Clarion
Property crime in rural areas is a growing concern, so the Rural Municipality of Kindersley is encouraging its citizens to start a Rural Crime Watch group.
The RM of Kindersley held an information meeting on Nov. 7 at the Masonic Lodge. About 30 people attended the meeting, where a member of the RCMP's Crime Prevention and Crime Reduction unit spoke about the Rural Crime Watch program.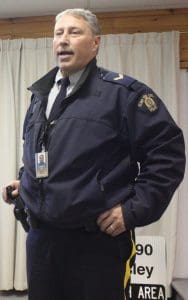 Lorne Pincemin, a councillor in the RM of Kindersley, welcomed people to the meeting and introduced the speaker, Cpl, Mel Zurevinsky. The councillor said local officials heard the officer's presentation at a Saskatchewan Association of Rural Municipalities (SARM) convention.
The councillor said there used to be a Rural Crime Watch group in Kindersley and he could recall seeing the signs when he was growing up in the area. He noted that officials wanted to see if there's interest in re-establishing the group.
Zurevinsky, who was joined at the meeting by Sgt. Ray Blais of the Kindersley RCMP, said he was born and raised in Saskatchewan. He said he also operates a cattle and haying operation with his son in the RM of Colonsay.
The corporal said he became interested in the Rural Crime Watch program in 2016 after crime started to increase in his area. He said he and friends had batteries and fuel stolen, so he reached out to the commanding officer for F Division with hopes of rejuvenating the prevention program.
"We started doing some research," he said, explaining that Rural Crime Watch was more popular in the early to mid 2000s and interest declined by the end of the decade. "When I started to do some research in 2016, there were only four programs running in the province."
The province's Crime Prevention and Crime Reduction unit worked to revise the program, Zurevinsky said. Through his research, he discovered that Alberta, Manitoba and British Columbia have a different system for the program.
For more on this story, please see the Nov. 15 print edition of The Clarion.