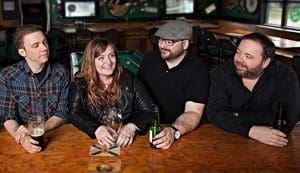 Kenneth Brown
of The Clarion
A Celtic rock band from Edmonton will perform in Kindersley this weekend in a concert to raise money for a future performing arts venue.
The Derina Harvey Band will perform on Nov. 25 at the Norman Ritchie Community Centre starting at 8 p.m.
The concert is being presented by the Kindersley and District Arts Council, but it's not a part of the arts council's Stars for Saskatchewan performing arts series.
Jenn McLean, an arts council member and spokesperson, said the concert is a fundraiser to support the council's efforts to raise money for a new community centre that would be the new home of the performing arts in Kindersley.
Tickets to see the Derina Harvey Band are $31, more expensive than tickets for shows in the Stars for Saskatchewan series because it's a fundraiser. Tickets for Saturday's concert will be available at the regular locations, McLean said. Tickets for arts council shows are available at Lela's Music Centre, LaBelle Boutique and Integra Tire. Tickets are also available online at www.ticketpro.ca or at the door if the show isn't already sold out.
[emember_protected for="2″ custom_msg='For more on this story, please see the Nov. 22 print edition of The Clarion.']
The Derina Harvey Band reportedly sets out to entertain with a show that's engaging, energetic and fun. Band members are originally from the East Coast and deliver entertaining performances injected with a dose of humour from their leader, Derina Harvey, who has a passion for storytelling.
McLean said arts council members believed the band is right for a fundraiser.
"They're an upbeat Celtic band and we just thought it would be a fun group to have for a fundraiser," she said. The band performed at an Organization of Saskatchewan Arts Councils showcase in 2016.
McLean said pizza will be served at intermission and that's included with the price of a ticket.
She encouraged people to come out to the all-ages concert. "It'll be pretty entertaining."
The arts council has also been selling raffle tickets on a quilt made and donated to the organization by Michelle Vold. The draw date is Dec. 15. You can get tickets from any arts council member or at the concert this weekend.
According to McLean, proceeds from other arts council concerts are dedicated to the future community centre project, but the show on Saturday is being held for the specific purpose of raising money for the facility.
[/emember_protected]