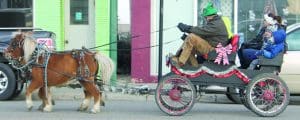 Clarion staff
The Christmas season officially kicks off in Kindersley on Saturday.
The Downtown Kindersley Association is hosting the Christmas Starts Today event and Santa is scheduled to make an appearance.
There will also be two free showings of the movie Despicable Me 3, at 11 a.m. and 1:30 p.m. at the Sunset Theatre.
This is a great chance for parents to head downtown and take advantage of some great deals the merchants will be offering.
Then Santa is expected to arrive and hand out treats beginning at about 1 p.m. – and he may even get on a wagon for a free ride.
Free horse-pulled wagon rides will be offered from 2 to 4 p.m. There will be four teams and wagons available, graciously provided by drivers Lionel Story, Gord Casswell, Duffy Ham and Larry Benjamin. The pickup point will be in the empty lot across from Veronica's Sewing Supplies.
It's a great way to start the festive season and get in the mood for another holly, jolly Christmas.