Kenneth Brown
of The Clarion
Kindersley's public liquor store will be replaced by a private retailer at the start of December.
Clayton Filkohazy, a communications specialist at Sobeys Inc., said the new Sobeys Liquor store in Kindersley will open on Dec. 1.
The public store will close its doors for good after business on Nov. 30.
The Saskatchewan government announced its intention to expand the private liquor retail system in November 2015. The province issued a request for proposals in July 2016 to determine the new private retailer for Kindersley. The Saskatchewan Liquor and Gaming Authority (SLGA) spearheaded the selection process.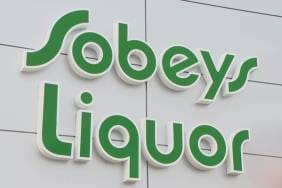 SLGA announced in November 2016 that the retail store permit for Kindersley was awarded to Sobeys Liquor. There were 50 retail store opportunities made available and 39 opportunities would replace existing public stores.
Construction of the Sobeys Liquor store on 11th Avenue East began in the spring. Filkohazy confirmed the store would resemble Sobeys Liquor stores in other locations. No announcements have been made regarding a grand opening.
[emember_protected for="2″ custom_msg='For more on this story, please see the Nov. 22 print edition of The Clarion.']
According to Filkohazy, the store has 5,000 square feet of retail space. It will have a walk-in cooler, so people will be able to buy cold beer at the store all year long. Other features include a growler beer bar, a selection of craft beers, a wine-tasting centre and wines from around the world.
Along with the usual products people would find at a liquor store, the Kindersley location will also feature some local products, Filkohazy said. Sobeys Liquor also offers an Air Miles Rewards program.
A growler bar allows people to purchase small amounts of draft beer. The common growler jug sizes are one and two litres. The store will sell growler jugs, but people will be able to bring their own, Filkohazy added. The system allows people to try different craft beers on tap that might not be available in bottles.
The spokesperson could not comment on construction, but said the store is on track to open in December. He provided an official statement from a vice-president at Sobeys Inc. saying the company is excited to open a new store.
"We're excited to be opening this brand new, five-thousand-plus square foot store to serve our valued customers in Kindersley," said Brent Newman, vice-president of liquor. He said the new, modern store will offer an assortment of wine, spirits and beer with a wide range of features "just in time for the holiday entertaining season."
[/emember_protected]