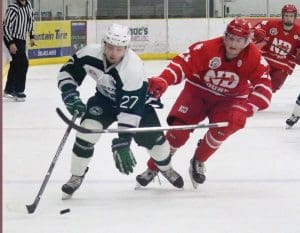 Kevin McBain
of The Clarion
The Kindersley Klippers picked up three of a possible four points last week against two very tough Saskatchewan Junior Hockey League opponents.
In their latest game, on Saturday in front of a hometown crowd, they defeated the league-leading Notre Dame Hounds 2-1. And last Tuesday in the Battlefords, they earned a point in a 4-3 shootout loss to the division-leading North Stars.
Assistant coach Larry Wintoneak, said it was a pretty good couple of games and a good month overall.
"I think we played pretty well last week and for the entire month of November," he said. "It was important to get those three points against division teams."
He said they were prepared to play a real good team in the Hounds.
"We knew that we were playing a first-place team and that they were very good and the hottest team in the SJHL right now," said Wintoneak. "We knew we had to stay on top of them and limit their time and space with the puck.
"We did just that and we earned some good opportunities off of the pressure that we put on them," he added. "We were aggressive, especially on our penalty kill."
For more on this story, please see the Nov. 29 print edition of The Clarion.