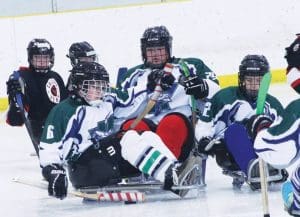 Clarion staff
The Kindersley Klippers sledge hockey tournament was dubbed a success by manager Tracy Lyons.
The third annual event featured 10 teams from Saskatchewan and Alberta. It was the largest tournament to date.
Teams were divided into junior and intermediate divisions.
The hometown Klippers did well, winning two games before losing their final one to an intermediate team from Regina.
Five older players from Kindersley – Tristin McBain, Mathew Kehrer, Preston Greenstien, Will Avotins and Bret Klassen – played with the Cut Knife Sledge Hammers. This team finished with a record of 1-2 on the weekend.
Lyons said that all of the teams she talked to enjoyed the event. It was the first tournament of the season for all the teams and was only the first or second time on the ice for a few of the teams.
Lyons would like to thank all of the sponsors for all of their support of the weekend.