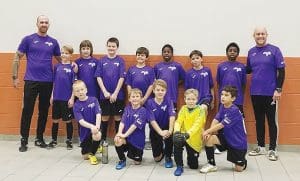 Clarion staff
The Kindersley under-11 Storm team earned gold medals this past weekend at the Aurora Open soccer tournament in Saskatoon.
The event was a big one, featuring 112 teams in all age divisions.
The U11 team, with players from Kindersley and Rosetown, was dominant in this tournament, winning four straight games. They had just two goals scored against them, an impressive feat.
They opened the tournament with an 8-0 win and continued the strong performance, winning by scores of 5-2, 6-0 and 4-0 in the final.
The U13 team also did well, finishing third overall with a record of 2-1.
They defeated the Lakewood Rowdies 5-4 in their opener, then lost 4-2 to Aurora before defeating Hollandia 2-1.
The U17s also played well and finished with a 1-2 overall record. They defeated Aurora 2-1, lost to JJ Soccer 3-2 and to Prince Albert 4-2.
This weekend, all teams are headed to Prince Albert to compete in some friendlies.