Kenneth Brown
of The Clarion
More support is needed for an annual program that empowers children in six area communities by giving them a chance to buy Christmas gifts for their family members.
The Santa's Hut program gives children 12 years of age and under a chance to attend shopping events in their communities and purchase gifts for parents and siblings at a nominal price. Items are priced from minimum of 25¢ for smaller items to a maximum of $6 for larger items.
Donations of new, unwrapped gift items and cash are being accepted for the Santa's Hut program. There are drop-off locations in each of the six participating communities for people to donate the new, unwrapped gift items.
Misty Leismeister, president of the West Central Crisis and Family Support Centre in Kindersley, is a co-ordinator for the program., which is in its 25th year. She said donations of gift items and cash are down from other years. Shopping events are set to start this week.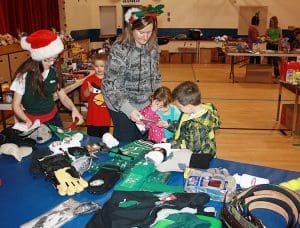 "We've really got nothing so far this year," she said. Donations are down in nearly every community where shopping events are held and support will be needed over the coming days. "We are low in every area."
The first Santa's Hut shopping event of the season takes place in Coleville this Friday. Shopping events in nearby communities are set for Coleville on Dec. 1 at Rossville School from 3:30 to 5 p.m.; in Marengo on Dec. 7 at Westcliffe Composite School from 10 a.m. to 2 p.m.; in Eatonia on Dec. 9 at the Community Hall from 2 to 5 p.m.; and in Kindersley on Dec. 16 at Elizabeth School from 9 a.m. to 12:30 p.m. Events also take place in Eston and Rosetown.
For more on this story, please see the Nov. 29 print edition of The Clarion.