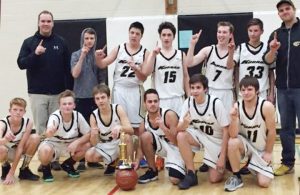 Kevin McBain
of The Clarion
The Kindersley Composite School senior boys and girls basketball teams had successful starts to their seasons last weekend.
The boys hosted a six-team tournament with representation from Unity, Eagleview (Onion Lake), Saskatoon Legacy, Delisle and Asquith competing in two pools.
The KCS boys started off against a very tough Unity team and played well, coming back late and taking the lead before losing 54-53.
But the team shook of the rust, learned from their mistakes and won their next three games to claim the tournament championship.
"We had a bit of a bump in our first game," said coach Jason Hankewich. "The guys had some rust they had to shake off, but in the end, we only lost by one.
"We had a bit of a talk after that and by the second quarter of the second game we were gaining momentum and things were clicking," he added.
For more on this story, please see the Dec. 6 print edition of The Clarion.