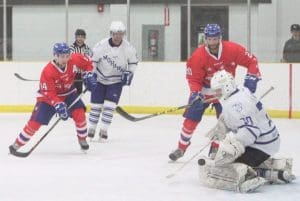 Kevin McBain
of The Clarion
The Kindersley Red Lions split their home games on the weekend against Macklin and Kerrobert and sit in fourth in the Sask. West Hockey League with a 4-3-1 record.
The Red Lions closed off the weekend with a 7-4 win over the Kerrobert Tigers on Saturday after losing to the Macklin Mohawks 3-1 on Friday night.
They face a couple of tough teams this weekend. They take on the undefeated Wilkie Outlaws in Wilkie on Friday night and are in Eatonia on Saturday to take on the hard-working Huskies.
In Saturday's game, the Red Lions were able to roll four lines against a depleted Tigers lineup.
"They were missing a few bodies and we were able to roll four lines against them, which you want to do," said coach Wayne Samson. "If you're up that many players, you just want to tire them out.
"Our guys played well and we were able to get a lot of pucks to the net and stay out of the box, which is what we had to do," he added. "All of our lines played well, including our fourth line of Jordan Getz, Jesse Gramlich and Scott Brownlee."
For more on this story, please see the Dec. 6 print edition of The Clarion.