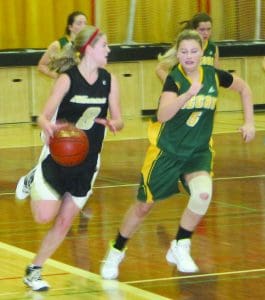 Kevin McBain
of The Clarion

The Kindersley Composite School senior girls basketball team earned two wins in three games in their home tournament last weekend.
The Kobras opened the tournament on Friday with a tough 60-54 loss against the eventual champions from Caronport High School. But they rebounded on Saturday to win two straight, a 51-36 morning victory over Biggar, followed by a 73-40 win over the Kerrobert Rebels in the final game of the day.
Caronport won the tournament with a perfect 3-0 record, followed by Kindersley (2-1), Biggar (1-3) and Kerrobert (0-4).
Coach Autumn Lane said that the girls played well.
For more on this story, please see the Dec. 13 print edition of The Clarion.