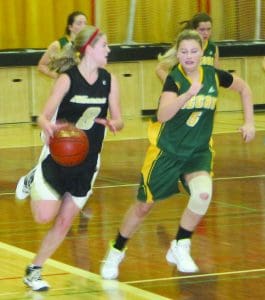 Kevin McBain
of The Clarion

The Kindersley Composite School senior girls basketball team earned two wins in three games in their home tournament last weekend.
The Kobras opened the tournament on Friday with a tough 60-54 loss against the eventual champions from Caronport High School. But they rebounded on Saturday to win two straight, a 51-36 morning victory over Biggar, followed by a 73-40 win over the Kerrobert Rebels in the final game of the day.
Caronport won the tournament with a perfect 3-0 record, followed by Kindersley (2-1), Biggar (1-3) and Kerrobert (0-4).
Coach Autumn Lane said that the girls played well.
[emember_protected for="2″ custom_msg='For more on this story, please see the Dec. 13 print edition of The Clarion.']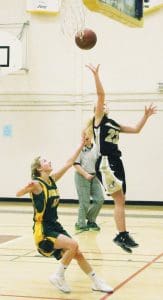 "I think they're really good at playing well under pressure, they really showed it in our game against Caronport," she said. "The communication was very good all weekend and they were making plays work.
"It was also great to see them put some plays together that we worked on in practice," Lane added. "Our shooting and our offence was very good as well this weekend. We scored more than 50 in each of our games, which is really good."
Lane said they want to continue to work on team defence, especially on stopping the fast break, and rebounding.
This is the second tournament for the girls. They competed in Biggar on Dec. 2, winning three straight games to capture the tournament.
The team will now take a break with their next scheduled tournament in Kerrobert on Jan. 12 and 13.
Senior boys
The senior boys head to Unity for a tournament this weekend after having last weekend off.
[/emember_protected]