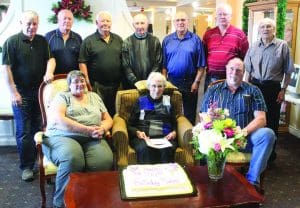 Kenneth Brown
of The Clarion
Alumni from the Kindersley Senior Klippers hockey club have come together to show their appreciation for a 100-year-old woman who had a big impact on their lives.
A group of about 10 Klippers alumni and their wives planned a surprise celebration for Mable Stanley on the day she turned 100 years old. The birthday celebration was held on Dec. 7 at Caleb Village, where Stanley lives.
The surprise was orchestrated by Rick Boyd and Wally Jackson. Boyd said the alumni wanted to wish Stanley a happy birthday, but the team's former members also wanted to thank the Kindersley resident for everything she did to help with the team over five decades.
Mable's husband Murray "Doc" Stanley was the team's trainer and although the exact dates he was involved are unknown, it dates back to the 1930s. He served as the team's trainer until the mid-1970s.
Murray and his wife were also the team's equipment managers. At a time when hockey jerseys were sweaters made from wool, teams did not replace their uniforms as often as they do today. Mable would wash and repair the team's sweaters.
For more on this story, please see the Dec. 13 print edition of The Clarion.