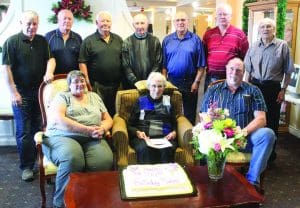 Kenneth Brown
of The Clarion
Alumni from the Kindersley Senior Klippers hockey club have come together to show their appreciation for a 100-year-old woman who had a big impact on their lives.
A group of about 10 Klippers alumni and their wives planned a surprise celebration for Mable Stanley on the day she turned 100 years old. The birthday celebration was held on Dec. 7 at Caleb Village, where Stanley lives.
The surprise was orchestrated by Rick Boyd and Wally Jackson. Boyd said the alumni wanted to wish Stanley a happy birthday, but the team's former members also wanted to thank the Kindersley resident for everything she did to help with the team over five decades.
Mable's husband Murray "Doc" Stanley was the team's trainer and although the exact dates he was involved are unknown, it dates back to the 1930s. He served as the team's trainer until the mid-1970s.
Murray and his wife were also the team's equipment managers. At a time when hockey jerseys were sweaters made from wool, teams did not replace their uniforms as often as they do today. Mable would wash and repair the team's sweaters.
[emember_protected for="2″ custom_msg='For more on this story, please see the Dec. 13 print edition of The Clarion.']
Aaron Stanley, her son, was also on hand for the surprise party with his wife Ann and he was called upon to bring his mother down to the party. Mable made her way to the room where she was greeted by guests, and everyone sang Happy Birthday to her. Jackson presented her with a vase full of flowers and everyone enjoyed cake.
The alumni and their wives took turns congratulating Mable. It was pointed out by several alumni that Mable almost never missed a game in the time her husband was trainer and she even travelled with the team.
She said the party was a wonderful surprise from a good group of people.
"I didn't have a clue," she said. She was shocked to see all the faces in the room. "We were always kind of a close bunch it seemed like. After a lot of the games, we would collect somewhere and have a party."
When she was asked about her secret to living a long life, Mable said she just worked hard all her life. She said her mother lived to be 93, but other members of her mother's family had lived to be 100. The longevity runs in the family, she said.
Mable said she went to all of the games because she loved hockey and she enjoyed spending time with everyone who was involved with the team. She recalled a time when the team travelled to Regina for a big game and the wives banded together to help.
"In those days, they didn't have much money and their uniforms were almost thread bare," she said. It was common for teams to have holes and tears in their uniforms. "A lot of us hockey wives got together, and we mended them and washed them all up and had them looking a little bit better when they went to Regina."
She noted that helping out was something for her to do, but it kept her involved with the team and she enjoyed it. Mable said one of her fondest memories came while travelling with the Klippers to Newfoundland for a national championship. It is the only time she has been to Newfoundland.
Jackson said it was the first time the alumni threw a birthday party for Mable. The guys found out she would turn 100 in 2017, so they started talking about the idea back in the summer, he said. The date was unknown.
They found out Mable's family was taking her to a Saskatchewan Roughriders game for her 100th birthday, so they believed the date had passed, Jackson said. Aaron told him her birthday was in December, so the guys started to collect money to plan the party.
Jackson, who played from 1955 to 1975, said he had a great relationship with Murray and unlike other teams at the time, the Klippers never had holes in the socks. The alum said Murray, who also never missed a game, was the trainer until a year before he retired. The couple made a difference.
"She cared and that's a big thing," he said about Mable. He said it was nice for the guys to be in a position to thank her for everything she did. "You'd look in the crowd and she was there. That's what you cared about."
Jack Clark, who played from 1949 to 1962, was also at the party. He said Mable put a lot of effort into helping the team, and she did it for a long time. Clark added that Mable and Murray put an unbelievable amount of time and effort into the task, and "everybody really appreciated it."
[/emember_protected]