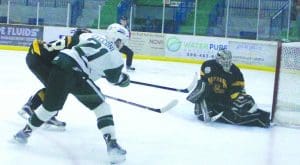 Clarion staff
The Kindersley Klippers broke a losing slide with a 5-4 victory over the Flin Flon Bombers on Monday.
The Junior Klippers had lost their past six Saskatchewan Junior Hockey League games heading into the two-game set against the Bombers on Monday and Tuesday.
On Monday, the Klippers earned a hard-fought victory over the Bombers. The two teams combined for 170 minutes in penalties.
Game two was scheduled for last night (Tuesday).
On Monday, defenceman Brody Ryberg scored two goals including the game winner. Tanner Thompson also scored two and Curtis Peck found the back of the net in the win.
The Bombers had a chance to tie the game late, having a six-on-four power-play with the goalie pulled, but they couldn't beat goaltender Billy Girard, who made 25 saves and picked up his fourth win of the season.
For more on this story, please see the Dec. 20 print edition of The Clarion.