Kenneth Brown
of The Clarion
It's been an exciting year in Kindersley with construction starting on a new pool, and Mayor Rod Perkins says he believes council has done well in its first calendar year together.
The Town of Kindersley embarked on a couple of major projects in 2017 with a new aquatic centre on the go and the Western Regional Landfill taking shape west of town. It was also a year of change for town council with six of seven members first being elected in the 2016 general election.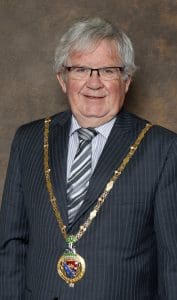 Council has adopted a new governance structure after doing away with the Carver Governance model late in 2016. Perkins said the types of decisions a council has to make are not always easy, but the new council has come together and members are seeing eye to eye.
"Everybody's on the same page," he said. He's heard stories of other councils that don't get a whole lot accomplished because members are often arguing but that's not the case in Kindersley. "We try to come up with what works for the community."
The mayor said council adopted its own model of governance and he believes more things are getting done in the community due to that change. He said Carver Governance was not the problem but it was not being administered properly.
According to Perkins, he and the new council have established a top-down working relationship between CAO Bernie Morton and the town's administration, and he believes it's working well.
For more on this story, please see the Dec. 20 print edition of The Clarion.