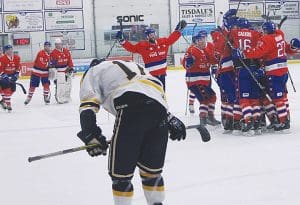 Kevin McBain
of The Clarion
The Kindersley Red Lions closed off 2017 in fine fashion on the weekend with two wins at home.
The Red Lions defeated the Unity Miners 5-3 on Friday night and slid past the Eatonia Huskies, 2-1 in overtime Saturday night in front of a large hometown crowd.
The two wins mean that the Red Lions are in sole possession of third place in the Sask West Hockey League with a record of 9-4-2 with just five games remaining.
The team has this weekend off and will play against the Huskies in their next game on Jan. 12 and will host Biggar on Jan. 13.
On Saturday, the two teams battled hard for 60 minutes and gave the fans a great show.
The game was scoreless after two periods of play, but in the third, Djay McGrath found the back of the net for the home side first, sniping a shot form the slot to finally get a puck past Lane Michasiw, who had a great game for the Huskies.
For more on this story, please see the Jan. 3 print edition of The Clarion.