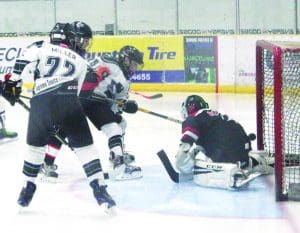 By Eric Feader
The Kindersley Peewee Source for Sports Falcons hosted their annual tournament this weekend with teams from around the province competing.
Things started on Friday night with the opening game against their league rivals from Kerrobert. The Tigers got off to a quick two-goal lead after the first period.
The Falcons woke up in the second period with five goals, two from Jace Reichert, to take the lead into the third.
The lead would hold and the Falcons won 5-2.
[emember_protected for="2″ custom_msg='For more on this story, please see the June 21 print edition of The Clarion.']
On Saturday, the Falcons faced two very tough teams. First was the Delisle Bruins, returning A side champs from the year previous. They showed the Falcons why they were the champs, dealing them a 17-0 drubbing first thing in the morning.
The second game was against the Saskatoon Bobcats, who also proved to be tough competition. The Falcons showed a better effort but still lost 6-1.
The Falcons ended up in the C final Sunday morning against the Warman Wildcats. Things were close in the first period, with Reichert scoring. Calvin Feader had a nice rush in the second period and potted one but that was all the scoring the Falcons could muster in an eventual 8-2 loss.
Winning the A side was the Delisle Bruins. B side winner was the Saskatoon Bobcats and the C side winner was the Warman Lynx.
A skills competition was held Saturday as well. The lone local winner was Rhett Dimitroff, who won the best shootout skater event.
[/emember_protected]