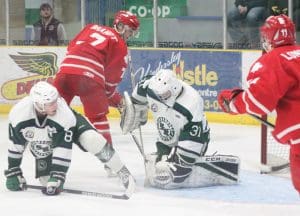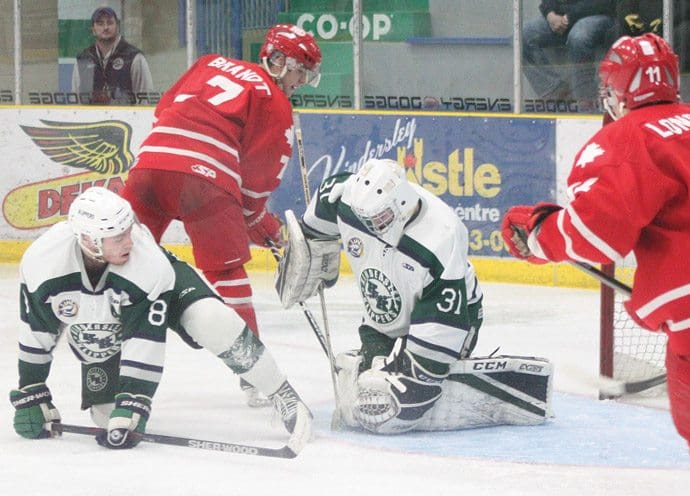 Clarion staff
Goaltender Justen Close earned his second shutout of the season on Saturday to defeat the visiting Notre Dame Hounds 3-0 in the Klippers' latest action this past week.
The Klippers also travelled to North Battleford to take on the North Stars on Wednesday in a makeup game, losing 4-2.
The Saskatchewan Junior Hockey League squad is now on the road. They were scheduled to take on the Hounds in Wilcox yesterday (Tuesday), then travel to Estevan to take on the Bruins tonight. Friday, they travel to Weyburn to take on the Red Wings, before travelling back to Estevan on Saturday.
The Klippers held a 3-1 record against Notre Dame so far this season, going into Tuesday's game. The Klippers have only played Estevan once, defeating them 7-5 in Kindersley on Sept. 22. Against the Red Wings, the Klippers hold a 2-2 record so far this season.
[emember_protected for="2″ custom_msg='For more on this story, please see the Jan. 10 print edition of The Clarion.']
In Saturday's game, the Klippers scored one in each period, while Close stopped all 31 shots he faced.
In the first period, Tyler Traptow scored his second of the season. In the second, Keilian Olson would score his ninth of the season on the power play and in the third, it was Eddie May, scoring his eighth to cap off the victory.
The Klippers went one for five on the power play, while the Hounds were shut out in eight attempts.
In Wednesday's game, league-leading scorer Layne Young got the home side on the board first, scoring just 16 seconds into the game. It was the lone goal of the opening frame.
Eddie May would score on the power play in the second, sandwiched between two Battlefords' goals and the score was 3-1 after two periods.
Nik Malenica would score with just under two minutes left in the game to make the score 3-2, but that was all they could manage. Young would close out the scoring for the North Stars.
Close stopped 27 of 31 shots he faced in the loss.
The Klippers scored twice in six chances on the power play, while the North Stars would score once in three opportunities.
Notes
The Klippers picked up 1999-born goaltender Zach Johnson from the Notre Dame Hounds last week for a player development fee. The Regina native was the backup goaltender for Saturday's game.
[/emember_protected]