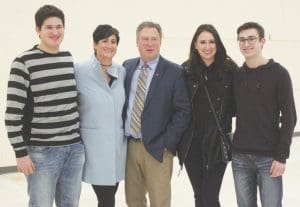 Kenneth Brown
of The Clarion
The Town of Kindersley's current deputy mayor, Ken Francis, has won a contested nomination to be the Saskatchewan Party's candidate for the Kindersley byelection.
A nomination meeting was held at the Kindersley Mall in the space formerly occupied by Home Hardware. More than 600 Saskatchewan Party members turned out to vote for six candidates in the running, and Francis won after a preferential ballot.
The six candidates vying for the nomination were Francis, a land agent from Kindersley; Joseph Chiliak, a farm labourer from Alsask; Tom Geiger, a funeral home manager from Kindersley; Isabelle Ryde, a farmer from Eston,; Jeremy Welter, a farmer from Kerrobert; and Darwin Whitfield, a retired farmer from Coleville.
Only Sask. Party members in good standing who live in the Kindersley constituency could vote. The members received their ballots when they registered to vote. Each of the six candidates was given 10 minutes to speak before members filled out their ballots.
There was also a guest speaker at the nomination meeting. James Thorsteinson, president of the Sask. Party, spoke to the crowd while the ballots were being counted. Two of the party's caucus members, Ken Cheveldayoff and Jim Reiter, were also in attendance.
For more on this story, please see the Jan. 10 print edition of The Clarion.