Kevin McBain
of The Clarion
Red Lions fans saw two great games last weekend.
The Sask West Hockey League team lost to Biggar 6-5 on Saturday, after defeating Eatonia 6-5 on Friday night.
With three games remaining in the season, the Red Lions are third with a record of 10-5-2 for 22 points, just one point behind the Macklin Mohawks.
In Saturday's tilt, the Red Lions jumped out to a 2-0 lead in the first period with Jonny Calkins and Brandon Cummings scoring.
The turning point in the game came in the second period, when the Nationals scored three power-play goals on the same man advantage. However, the Red Lions were able to stay in the game and the score was 4-4 after two periods. Jesse Ismond and Jessey Pocock scored for the home team in this frame.
In the third, the Nationals scored two early to put the game away. Cummings scored for the Red Lions to cap things off late in the period, but that was as close as they would get.
Luke Sproule would stop 26 of 32 shots in the loss, while Zach Noble stopped 33 of 38 for the Nationals.
"We were hoping for a better fate," said coach Wayne Samson. "We kind of let this game slip away and let them back in
the game.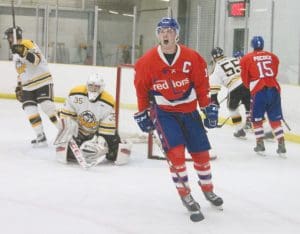 "The second period was definitely a turning point, when we got that six-minute penalty and they scored three times. We have to be more disciplined and stay out of the box."
For more on this story, please see the Jan. 17 print edition of The Clarion.