Kenneth Brown
of The Clarion
Longtime volunteer and community champion Don Fuhrman died suddenly last week and the community now has a big hole to fill within the local volunteer base.
Fuhrman, who was only 66-years-old at the time of his death on Jan. 18, spent the majority of his adult life volunteering his time to community projects and organizations. He not only volunteered with several local organizations, he helped to lead those organizations.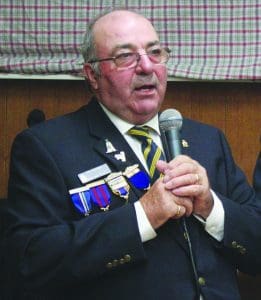 The dedicated volunteer was raised in the Netherhill area, where he continued to live on a farm with his wife. As of Jan. 18, Fuhrman was vice-president for the Kindersley and District Health and Wellness Foundation (KDHWF), secretary for the Kindersley Elks Lodge, and past president of the Kindersley Legion.
According to a colleague, Fuhrman's involvement in the health care community goes back more than 30 years. He held a wide range of executive positions over his time with the Kindersley Elks, and he has been huge for the Legion.
David Burke, the sergeant-at-arms for the Kindersley Legion, said Fuhrman had just finished a stint of six years as president of the Legion branch. He served three consecutive two-year terms as president, and he had only passed the torch to a new president the day before he died.
The Kindersley Legion held a meeting on Jan. 17 to elect a new executive. Burke said the torch has been passed on to Patrick Brick, the new president of the branch, and Fuhrman was to remain on the branch's executive board as past president.
Burke said if he had to describe his close friend and colleague in as few words as possible, he would use the words "truly dedicated." He said Fuhrman was dedicated to his position, dedicated to the organization and "if there was something that needed to be done and he couldn't find anybody to do it, he did it."
For more on this story, please see the Jan. 24 print edition of The Clarion.