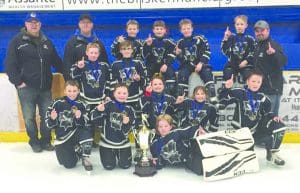 Kevin McBain
of The Clarion
Kindersley's three atom hockey teams have all done very well this season.
The three teams finished in the top three spots in the recent local tournament.
The Kindersley No. 1 Longhorn Oil & Gas Klippers defeated the Kindersley No. 2 Blue Bandits in the A final 7-3 to claim the championship in the nine-team event.
The third team, Kindersley No. 3 Kaos, finished third overall, losing in the semifinal to the Klippers 12-11. This game meant a bit more, as it was also a league game.
Klippers' head coach Jaymie Holland said that this was a very tight game.
"They really came out strong against us, putting us to the test and you could tell they wanted the victory as bad as we did," he said. "Both teams played hard for the full 60 minutes and it was a very entertaining game for the fans and players."
For more on this story, please see the Jan. 24 print edition of The Clarion.