Kevin McBain
of The Clarion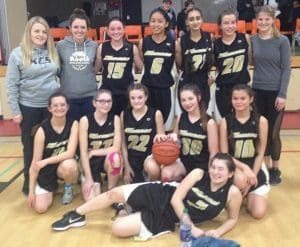 The Kindersley junior boys and girls basketball teams ruled the roost last weekend.
On the girls side, the Junior Kobras and Elizabeth Lions hosted a six-team tournament this past weekend and the two teams ended up meeting in the finals.
The older Junior Kobras ended up winning this one by a lopsided score, but members of the Lions showed some great ability and have greatly improved over the season.
Other teams competing in the tournament were from Outlook, Kerrobert, Luseland and Rosetown.
The next tournament for the Kobras will be in Rosetown on Feb. 3.
For more on this story, please see the Jan. 24 print edition of The Clarion.