Kenneth Brown
of The Clarion
SaskPower is looking to build a new facility in Kindersley but council members are denying the corporation's request to maintain a septic system.
Council addressed the request at a meeting on Jan. 29. The town's elected officials unanimously agreed with a show of hands that they don't want the corporation operating a septic system at a new facility at its current location along Highway 7 east of Kindersley.
Bernie Morton, the town's chief administrative officer (CAO), said the town has received an application from SaskPower with respect to a building project. The corporation plans to construct a new building and demolish its current building.
He noted that there was no sewer service near the property when SaskPower first built its facility at the location. Morton said there is now a sewer connection to the west of SaskPower because a sewer line has since been extended to the east of the car dealership located on 11th Avenue East.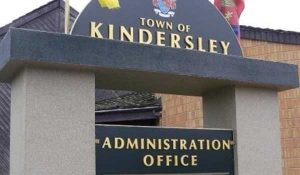 The town's policy for new developments states that if there is a sewer connection near the property, the building must tie in to the sewer system, he told council. The CAO said SaskPower is not interested to connect to the town's sewer system.
"They'd rather continue with their existing system." He said the corporation has been using a septic system since the facility was first built and SaskPower wants to continue using a septic system for the new building.
For more on this story, please see the Jan. 31 print edition of The Clarion.