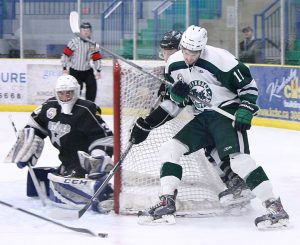 Kevin McBain
of The Clarion
The Klippers have had a solid January heading into this week.
The Saskatchewan Junior Hockey League team is playing .500 hockey so far with four wins and four losses against some very tough opponents.
The squad picked up two wins out of three games last week, defeating the Battlefords North Stars 4-2 on Jan. 23; the Humboldt Broncos in Macklin 3-1 on Jan. 24, before losing 3-2 to the league-leading Nipawin Hawks in their latest game on Saturday.
The Klippers were scheduled to be back in North Battleford last night, before hosting the Bruins tonight and Melville on Friday.
"It has been a challenging week with such tough opponents back to back," said coach Geoff Grimwood. "I think we were pretty happy coming out with two wins, but would have liked to get that third win as well."
For more on this story, please see the Jan. 31 print edition of The Clarion.