Kevin McBain
of The Clarion
Kindersley's Joel McGrath's baseball resume continues to grow.
The 16-year-old Grade 11 student who is attending the Badlands Baseball Academy in Oyen, Alta., recently competed at a Perfect Game West tournament in Phoenix, Ariz., with some of the best young baseball players in North America.
He has also recently been named to a tournament team – called the Alberta Prairie Sticks – that consists of the best academy ballplayers in Alberta. They will play (so far) in three tournaments this year: in Lethbridge in April; Indianapolis in June; and Ohio in September.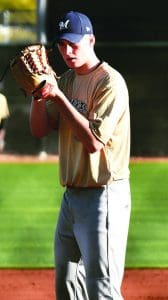 In Phoenix, McGrath played in two games during the tournament. It featured 26 teams from all across North America and was attended by pro and college scouts. McGrath played for the Milwaukee Brewers scout team, organized by a scout in B.C.
The tournament was played Jan. 12-15 at Camelback Ranch, the location of the Los Angeles Dodgers and Chicago White Sox training facilities.
For more on this story, please see the Feb. 7 print edition of The Clarion.