Kevin McBain
of The Clarion
The Saskatchewan Junior Hockey League Kindersley Klippers have struggled most of the season to string wins together.
Last week was an example. They were shut out 5-0 in North Battleford last Tuesday before losing in a shootout 3-2 against Estevan on Wednesday, then closing out the week with a 3-1 win at home against the Melville Millionaires.
"We had a tough month of December, but we were better in January with a 5-3-2 record. We hope to be better in February, then even better in March," said coach Geoff Grimwood. "We ended the week off well and started the month with a win, we definitely would like to build on that. We need to string some wins together."
Entering the week, the Klippers have a record of 18 wins, 17 losses, 3 overtime losses and 5 shootout losses for 41 points.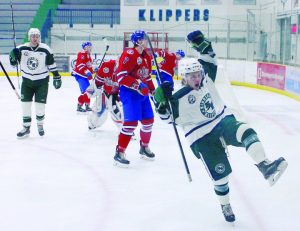 They hope to improve on that this week as they host La Ronge in Unity tonight, before hosting Notre Dame Friday and La Ronge Saturday.
For more on this story, please see the Feb. 7 print edition of The Clarion.