Clarion Staff
Leslie Glauser has been sentenced to three years in jail after a joint submission was made to Kindersley provincial court on Tuesday.
Crown prosecutor Darren Howarth presented the submission as Glauser, a former travel agent who owned and operated T & T Travel in Kindersley, sat beside her lawyer Robert Robbenhaar. Howarth presented a summary of the facts to Judge Robert Jackson.
A guilty plea was entered by Robbenhaar and Glauser over the phone at a previous court appearance. Howarth said the former travel agent pleaded guilty to a single charge of committing fraud in an amount greater than $5,000.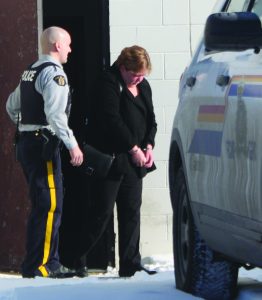 The Crown had pursued a global charge in light of the more than 250 complaints against the accused. Howarth said the Crown and defence have agreed on the total amount of money lost in the case. He told the court that the loss to victims totalled more than $1.02 million.
For more on this story, please see the Feb. 7 print edition of The Clarion.