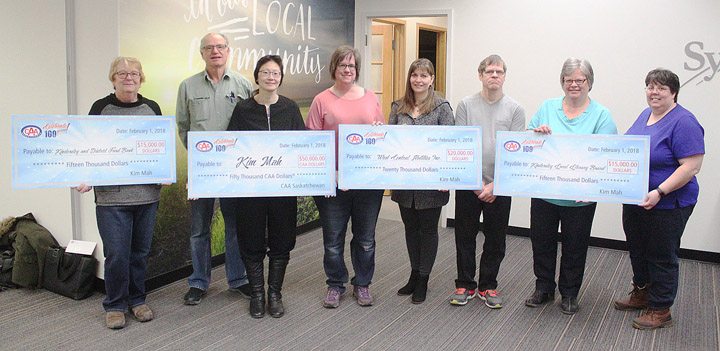 Kenneth Brown
of The Clarion
Kindersley resident Kim Mah has been a CAA Saskatchewan member for about two decades and her longtime membership has paid off after winning a special contest.
Mah was selected as the CAA Celebrate 100 Years $100,000 member winner in a contest held to mark 100 years of history for CAA Saskatchewan. Mah has won $50,000 in CAA Dollars, and she won an additional $50,000 to donate to local charities of her choice.
The $50,000 has been split up among three local charities. At Mah's request, $20,000 was donated to West Central Abilities (WCA) Inc., $15,000 was donated to the Kindersley and District Food Bank, and $15,000 was donated to the Kindersley Library Board.
There were also 12 monthly prize winners in the CAA Celebrate 100 Years contest, but Mah won the grand prize. She can access her $50,000 winnings in CAA Dollars, or in CAA Saskatchewan gift cards.
Mah said the association's 100th year was in 2017, so members were given an opportunity to visit CAA Saskatchewan locations across the province to enter monthly draws. She said for the grand prize draw, active CAA members in the province were given an entry for each year they have been a member.
For more on this story, please see the Feb. 7 print edition of The Clarion.