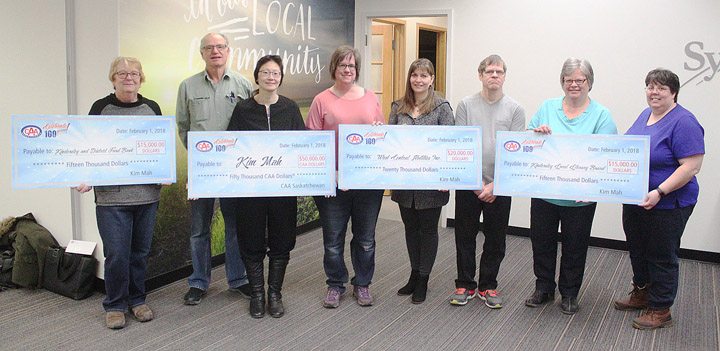 Kenneth Brown
of The Clarion
Kindersley resident Kim Mah has been a CAA Saskatchewan member for about two decades and her longtime membership has paid off after winning a special contest.
Mah was selected as the CAA Celebrate 100 Years $100,000 member winner in a contest held to mark 100 years of history for CAA Saskatchewan. Mah has won $50,000 in CAA Dollars, and she won an additional $50,000 to donate to local charities of her choice.
The $50,000 has been split up among three local charities. At Mah's request, $20,000 was donated to West Central Abilities (WCA) Inc., $15,000 was donated to the Kindersley and District Food Bank, and $15,000 was donated to the Kindersley Library Board.
There were also 12 monthly prize winners in the CAA Celebrate 100 Years contest, but Mah won the grand prize. She can access her $50,000 winnings in CAA Dollars, or in CAA Saskatchewan gift cards.
Mah said the association's 100th year was in 2017, so members were given an opportunity to visit CAA Saskatchewan locations across the province to enter monthly draws. She said for the grand prize draw, active CAA members in the province were given an entry for each year they have been a member.
[emember_protected for="2″ custom_msg='For more on this story, please see the Feb. 7 print edition of The Clarion.']
The association contacted her in January to let her know she had won, but she had to keep it a secret until arrangements could be finalized with the charities, she noted. She provided the names of the three charities for a CAA committee to review for eligibility.
Mah said each of the charities had to be contacted and an official announcement had to be made before she could share her secret. The announcement was made on Feb. 1 in Regina, so she was able to break the silence. Mah said she was joined by two WCA representatives in Regina for the announcement and it went to air on CTV News.
The winner was notified in an interesting way. She first received a phone message asking her to contact CAA, but she got the message after office hours and later received an email also telling her it was important for her call the association.
Mah said both messages were "pretty generic and not revealing a lot of information." When she finally got a hold of CAA, the person told her she was a sweepstakes winner and only after she asked the person what she won was she told that she had won the $100,000 grand prize package.
She noted that "it was pretty exciting" news. The contest also allows the charities to promote their organizations and initiatives, she said. Aside from having to keep it a secret, the charities were hard to pick.
"There are several worthy non-profit organizations," Mah said, adding that it is good recognition for the charities. "It is very difficult to try and choose three, but they all have a lot of fundraising initiatives underway and it was just a way to be able to contribute and help."
Lorne Kelsey, chairperson of the board of directors for WCA, said the donation will be used for the agency's building project. The agency is looking to build a new activity centre and office building on the 100 block of First Avenue West.
He noted that he had good news because the agency is going to start construction on the building in 2018 with completion anticipated in the first quarter of 2019. Kelsey said the plan was to start in 2018 regardless of the fundraising situation, but Mah's donation is excellent and it will help to get things started.
"We were struggling with contributions and how we're going to do this (and) all of a sudden this popped up," he said, noting that it could not be better timing to get the support. "It was just a huge gift to us."
Leslie Omness, a spokesperson for the food bank, said the donation is a wonderful contribution and the food bank will make good use of the money. The organization's grocery costs have increased "significantly" in the past year, so the money will help out and it was a nice surprise, she said.
The food bank supplies a week's worth of food to clients once each month and cash donations are used to purchase food items to complete the hampers, so for non-perishable items they do not have in stock and for fresh food items such as milk and meat.
Marilyn Shea, the head librarian in Kindersley, said she was contacted by CAA, and the association's people asked her questions in an attempt to find out if the library board qualified as a charitable organization. When she heard the board met the criteria, she said she was overwhelmed by the generosity.
"I couldn't believe it because there's so many things in Kindersley and area that need the money," she said, adding that Mah is a friend to the library and just a wonderful person. "We were so thrilled. It's really unexpected."
Cheryl Glass, vice-president of the library board, said the board has to meet to discuss how best to use the money, but library officials anticipate it will be used to support library programming old and new. The money will also be used to help promote the library, Glass added.
[/emember_protected]