Kenneth Brown
of The Clarion
The Kindersley and District Chamber of Commerce has held its annual general meeting (AGM) to close the books on another year of events and member services.
Chamber officials and members gathered at the Kindersley Inn on Feb. 9 for the annual meeting. The AGM covered the usual business of delivering reports and the event also featured two presentations by guest speakers. A soup and sandwich lunch was served.
The guest speakers included two representatives from Murlin Electronics, whose presentation focused on ransomware, and a representative of Wiegers Financial & Benefits, who spoke about the Chambers Group Insurance plan.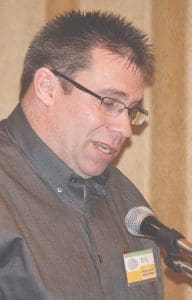 Eric Friesen, the chamber's president, called the AGM to order after people had settled in with their lunch. Friesen, who will continue to serve as chamber president in 2018, gave his president's message regarding the 2017 operating year. His message included news of the chamber's events, and it was another good year.
For more on this story, please see the Feb. 14 print edition of The Clarion.