Kevin McBain
of The Clarion
Kindersley's Ron Baker recently self-published his first of what he hopes will be many books to come.
The book, In the beginning: 2005-2006 – Random thoughts as life goes on, is a compilation of selected blog posts he wrote over that period.
"I just love to write and I have always liked words," he said.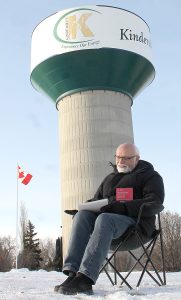 Baker has been writing posts since 1994 in a daily journal. In the early 2000s, he joined a small group of pastors and was encouraged by one who wrote his own blogs,to start a blog. But he was advised he had to do it on a regular basis.
So that's where things began. He continues to write and you can check out his blogs at ronbaker.ca.
For more on this story, please see the Feb. 14 print edition of The Clarion.