Clarion staff
The Klippers held their annual awards night Saturday at the Kindersley Elks Hall, handing out awards recognizing the top players of the season.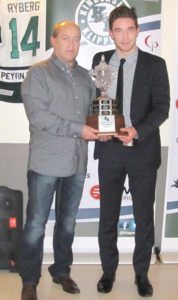 Plus/Minus – Energy Dodge – Nik Malenica
Community Involvement-Kodiak Energy – Austin Nault and Thomas Bollefer
Scholastic Player – Synergy Credit Union – Brendon Borbely
Top Hitter – Ironhorse Energy – Brock Shwaluk
For more on this story, please see the Mar. 7 print edition of The Clarion.