Clarion staff
The Kindersley Composite School senior girls and boys basketball teams have advanced to the next rung in the ladder to the provincials.
The girls hosted the 3A Conference 4 championships this weekend and four of the six teams in attendance were able to move on.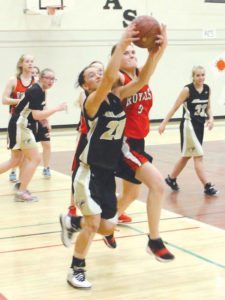 The KCS girls had to just win their first game Friday afternoon against Rosetown and they did just that. They earned an 88-42 win, which is all they needed. However, there was still more basketball to be played.
In the other game Friday, Maple Creek defeated Outlook 69-34 to advance to the semifinals.
With the win, Kindersley was slotted in to play Caronport and unfortunately, lost 77-59.
Coach Autumn Lane said that the girls played pretty well in this game.
For more on this story, please see the Mar. 14 print edition of The Clarion.